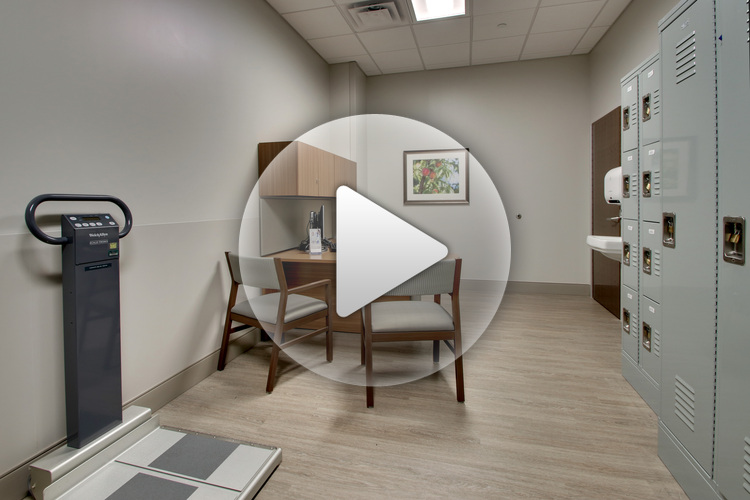 One of the challenges for senior living facilities and psychiatric hospitals is that they are frequently not accessible for in person tours to the general public for marketing purposes. We actually started our business primarily with photography for behavioral healthcare facilities because Paige has a background in behavioral health. This has made us the perfect choice for hundreds of facilities looking for behavioral healthcare virtual tours and senior living virtual tours.
What Made this Healthcare Photo Shoot Unique
The brand new Sylvia Barr Center at Southwell Medical is a 12 bed geriatric psychiatric facility providing inpatient services to older adults.Working with geriatric clientele for senior living virtual tours always provides unique challenges but add the psychiatric nature of this facility and we had our work cut out for us. Our unique experience with this type of program means that we are able to provide the images and virtual tour they need to show the facility to prospective clients or referral sources. But more than that, we understand how to put their patients needs first.
With the help of everyone from the marketing team, the direct care staff and the director of the program, we got our shots without disturbing the therapeutic milieu or disturbing their patients any more than necessary. It was truly a team effort and we cannot thank everyone enough for allowing us to work with them.
Mixing Business With Pleasure
As strange as it sounds, the pleasure aspect of this particular shoot is that it allows me to spend time in an environment that I absolutely love. I miss being involved in behavioral healthcare and have a special love for older people with cognitive impairments. Greg might say that the biggest challenge for him when we photograph memory care and psychiatric facilities is that I love the patients and residents so much that I don't want to leave when we are done.
Our behavioral health virtual tours and photography allow me to keep one foot in an environment that energizes and fulfills me like nothing else ever could.
---
Check Out More Healthcare Virtual Tours and Photography